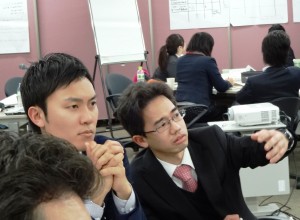 On 16th January 2013, Professor Hasegawa conducted a workshop for 14 trainees on the Delivering-As-One process held at the FASID seminar room in Azabu, Tokyo. Yuta Nakamoto, former chief of the Hasegawa seminar class, Kazuyuki Toriumi, a Hosei graduate student and Shogo Yoshida, a Hasegawa seminar student, joined in the workshop which dealt with the Rwanda case.
 After an introductory presentation by Professor Hasegawa, the workshop participants constituted two groups and carried out CCA and UNDAF with a view to drawing up the key goals of One UN Program in order of priority, their time schedule of events and locations. Nakamoto acted as Minister of Foreign Affairs of Rwanda, Toriumi as a representative of NGO Human Rights and Media (CNN/BBC), and Yoshida as UN Humanitarian Coordinator.
 Afterward, Ms. Sachiko Matsumoto, coordinator of the FASID training program, provided a feedback from the participants. They seemed to have found the exercise highly useful in understanding the complexity of coordinating the views and priorities attached to various development programs by host Government, UN agencies and donor countries of what should be done in a coordinated manner.
(Shogo Yoshida)