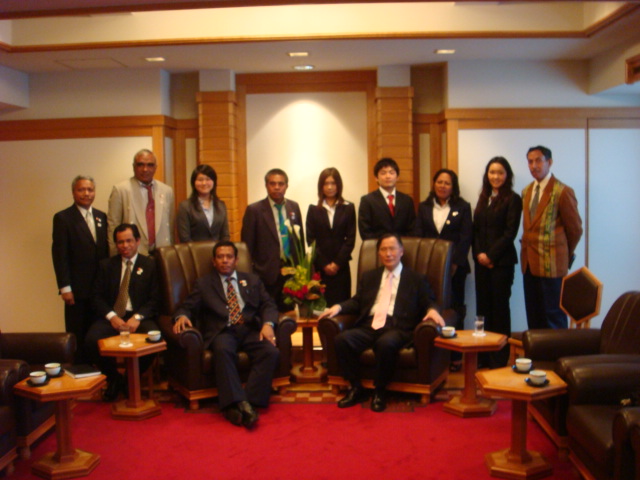 President of the National Parliament of the Democratic Republic of Timor-Leste Fernando La Sama de Araojo and his delegation visited Japan from 8 to 13 February at the invitation of Speaker of the House of Councilors of the Japanese Diet Satsuki Eda. They held a meeting with Professor Sukehiro Hasegawa at the Imperial Hotel in Tokyo on 12 February 2009. Ambassador Saramento Alves was also at the meeting, along with four students of Hosei University, Kisho Tsuchiya, Mina Furuichi, Chika Suefuji and Mai Mochizuki.
In this meeting, they exchanged their views on the current political, economic and social situation in the country and also specific legislative tasks carried out by the National Parliament of Timor-Leste. As areas for improvement, President La Sama reported referred to the inadequate capacity of the Judicial Sector, the need for more professionalization of the nationa police, and more discipline in parliamentary discussions.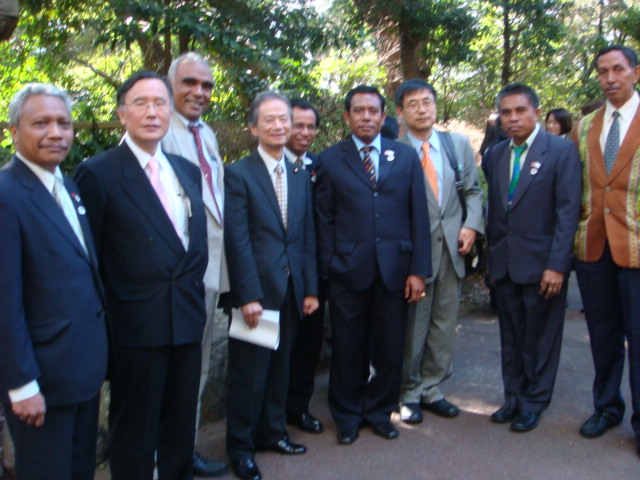 Professor Hasegawa expressed his regards held for Timor-Leste, as one of the most successful examples of United Nations' peacebuilding activities. Among the challenges facing Timor-Leste, he pointed out incresing corruption as the major threat to good governance and stability in Timor-Leste. In this context, he commented that the National Parliament should improve their oversight capacity of governmental activities in order to eliminate corruptive practices emerging in government and business. Professor Hasegawa also explained the importance of using the Millennium Development Goals (MDG's) as the development goals approved by the UN General Assembly in 2000. President La Sama agreed to look into the possibility of using MDG's as main criteria for the development of Timor-Leste.
Hasegawa zemi's Chika Suefuji, Mai Mochizuki, Mina Furuichi, and Kisho Tsuchiya contributed to this story.