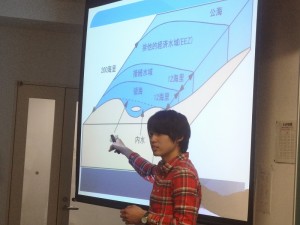 Hosei University 2012
"Professor Hasegawa Seminar Class"
■ Theme : Challenge for Water Supply and Perspectives of Liberal Democracy
■ Date : 18th December 2012, 15:10-18:20
■ Place : Hosei University, Ichigaya-Campus, Fujimi-kosha, F310
■ Contributor: Shogo Yoshida (Department of Global Politics, Hosei University)
*****************************************************************************************************************
1. Economic Development Group's presentation: Global Poverty Issues with Water Resources
 On 18th December 2012, during the 4th period class, four seminar students: Misa Komine, Yuuka Hirakawa, Eri Iijima and Yuki Shozui, made presentations on global poverty issues with water resources.
(1) Safe Water and Sanitary Facilities (Misa Komine)
 First, Misa Komine explained some advantages of ensuring safe water and sanitary facilities. Moreover, as the reasons why the maintenance of sanitary facilities in most developing countries don't progress very far despite of the merits, she pointed out the four barriers: (1) these governments tend to prioritize rather water supply than sanitary facilities; (2) they don't have enough money for capital investment; (3) women in these countries are politically inarticulate; and (4) there are gaps between governments and civilians in regards to the awareness of current facts.
(2) Water which Human can Use (Yuuka Hirakawa)
 Then, Yuuka Hirakawa took up the following causes not of establishment of water supply: (1) water shortage, (2) gaps between supply and demand, and (3) budget deficit in infrastructure improvement. In addition, she suggested that governments should guarantee the right to access safe water and its right should be centered on Poverty Reduction Strategy Papers (PRSP).
(3) Water Shortage (Eri Iijima)
 Next, Eri Iijima described the background of water shortage: most governments once believed water is a sustainable resource and continued to infinitely supply it for agriculture, industry and domestic use. Today, water shortage depends on regions and time. In particular, governments should maintain the infrastructures such as irrigation canals in the rural areas. On the other hand, however, governments should consider the secondary damages with infrastructure development such as the violation of human rights and the destruction of the environment.
(4) Transboundary Water (Yuki Shozui)
 Finally, Yuki Shozui mentioned that water is a common resource and a core of human interdependence. Then, he pointed out that the international society should positively cooperate in sharing transboundary water. Nevertheless, the following prevent them promoting its association: (1) confrontation of state sovereignty, (2) weak political leadership, and (3) asymmetry of authority. In order to create conditions to cooperate in sharing transboundary water, he suggested (1) assessing demands and objectives for human development, (2) enhancing trust and legitimacy, (3) strengthening institutional capability, and (4) more investing money in the maintenance of transboundary water. In the end, he concluded that all the states must not only fulfill equality and efficient of resources, but also enable coming generation to continuously enjoy the benefit of water.
2. Seminar Discussion: Perspectives of Liberal Democracy
 In the 5th period, as a review of the class last week, all seminar students discussed the following: (1) why liberal democracy needs in post-conflict countries; (2) why the UN often failed to introduce liberal democracy to the countries; and (3) how the UN can realize internal peace and stability in the countries.
(1) Voluntary Reconciliation before "IBL (Institutionalization Before Liberalization)" (Shogo Yoshida)
 Shogo Yoshida commented that the liberal democracy enables post-conflict countries to settle the principles of basic human rights and rule of law. He also pointed out that as Samuel Huntington refers, a source of conflicts is cultural friction, so the reason why the UN sometimes failed to settle the principle of liberal democracy to the post-conflict countries is not an ideological factor but a cultural incompatibility such as tribe, religion and so on. Therefore, he proposed that in order to realize internal peace and stability, the post-conflict nations should accomplish voluntary reconciliation and transitional justice between all domestic main actors, and then they should also gradually install the principle of liberal democracy including establishment of the liberal and democratic institutions.
3. All-Inclusive Review of the Seminar Class in 2012 (Professor Hasegawa)
 After the discussion, Professor Hasegawa looked back to the seminar class of this year. He referred to some main points of the textbooks which the seminar students read intensively in this class: "The Problems of Philosophy" (Bertrand Russell), "Understanding Global Conflict and Cooperation: An Introduction to Theory and History" (Nye Joseph), "Understanding Peacekeeping" (Alex J. Bellamy and Paul D. Williams), and "Justice –What's the Right Things to Do?-" (Michael J. Sandel).
 Finally, he explained essay quizzes on these textbooks which will carry out on 8th January 2013, the final seminar class.
(END)