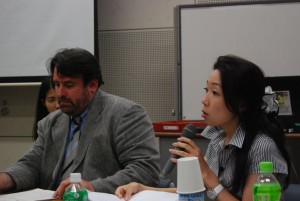 Part I: Role of UNHCR and IOM
15:20 Opening remark
by Professor Yuji Suzuki, Department of Global Politics, Faculty of Law
15:30 Presentation
Mr. Daniel Alkhal, Senior Protection Officer, UNHCR Tokyo Office
Ms. Naoko Hashimoto, Programme Coordinator, IOM Tokyo Office
16:10 Comments
Professor Masaharu Hishida, Head, Department of Global Politics, Faculty of Law (Moderator)
Professor Yuji Suzuki, Department of Global Politics, Faculty of Law
Professor Sukehiro Hasegawa, Department of Global Politics, Faculty of Law
Questions and Answers
Comments and questions from students for response by the presenters
17:00 End of Part I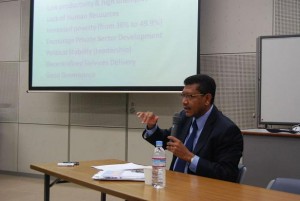 Part II: Development Assistance for Timor-Leste
17:10 Presentation
Mr. Helder da Costa, Acting Director, National Directorate for Aid Effectiveness, Ministry of Finance, Government of the Democratic Republic of Timor-Leste
17:50 Comments, Questions and Answers
Professor Yuji Suzuki (Moderator)
18:20 Concluding remark
Professor Sukehiro Hasegawa, Department of Global Politics, Faculty of Law
~Part1~
Mr. Daniel ALKHAL is the Senior Legal Officer of UNHCR in Japan.
He gave a presentation about "what is Refugee Protection?" and activity of UNHCR in Japan.
He also explained about his own experiences.
Ms. Naoko HASHIMOTO is the Program Coordinator of IOM Mission in Tokyo.
She explained 4 topics, "what is Migration?", "what is IOM?" , "what are Migrants'Rights?" and "what IOM does in Japan?"
Two guest speakers gave students comprehensive presentation. Many students asked them questions.