Global Governanceのゲストをご紹介する本コーナー。
第二回目は外務省軍備管理軍縮課長、森野泰成氏に来ていただいた際の講義の模様をお送りします。
また、森野氏は前期にも総合外交講座へ講師としていらしてくださっており、今回はそちらの要旨も併せてお伝えします。
【10月15日 森野泰成 外務省軍備管理軍縮課長】
①ゲストのプロフィールご紹介
軍備管理軍縮課長
1987年 外務省入省、1988年~91年 アラビア語研修(シリア及びエジプト)
2000年~04年 軍縮代表部所属、2004年~07年 在エジプト大使館所属
2007年より軍備管理軍縮課長を勤める。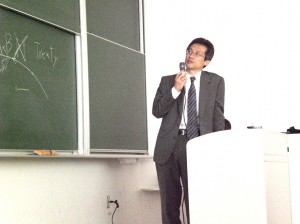 ②講義要旨
Mr.Yasunari Morino、Director for Arms Control and Disarmament Division, to deliver a lecture on
15 October, 2008.
He explained to us about lastest developments regarding disarmament and non-proliferation issues. Based on his own experiences in negotiation, Mr. Morino emphasized the importance of multilateralism.
He presented an overview of the Nuclear Non-Proliferation Treaty (NPT) such as its rule and ambiguity.
As a conclusion, Mr.Morino mentioned that all countries have to unify a sense of purpose to achieve disarmament and non-proliferation.
③【総合外交講座】6月11日 講義要約
2008年6月11日の法政大学外交総合口座において、外務省軍備管理軍縮課長を務められている森野泰成先生にお越し頂き、「国際的軍縮・不拡散と日本」について講義していただきました。
森野氏は軍縮を語るにあたり、『多数国間主義(マルチラテラリズム)』の重要性を強調していらっしゃいました。それは、世界共通の利益を作り上げるために必要なものであり、そのために個々が各々の利益を守りつつ、譲るところは譲るなど一定の利害調整を行うことが必要であると述べられていました。こうしたマルチラテラリズムにおいて、相互不信を乗り越えることの大切さや、発展途上国への国際協力の大切さについても指摘しておられました。