Mr. Shigeki Takizaki, Deputy Director-General of the Ministry of Foreign Affairs of Japan made an informative presentation on territorial disputes in the South China Sea. Both island and maritime claims are made by several states including the People's Republic of China, the Republic of China (Taiwan), Malaysia, the Philippines, and Vietnam. Their disputes concern in particular both the Spratly and the Paracel islands. The interests of different nations include securing fishing areas around the archipelagos; the potential exploitation of crude oil and natural gas under the waters of various parts of the South China Sea.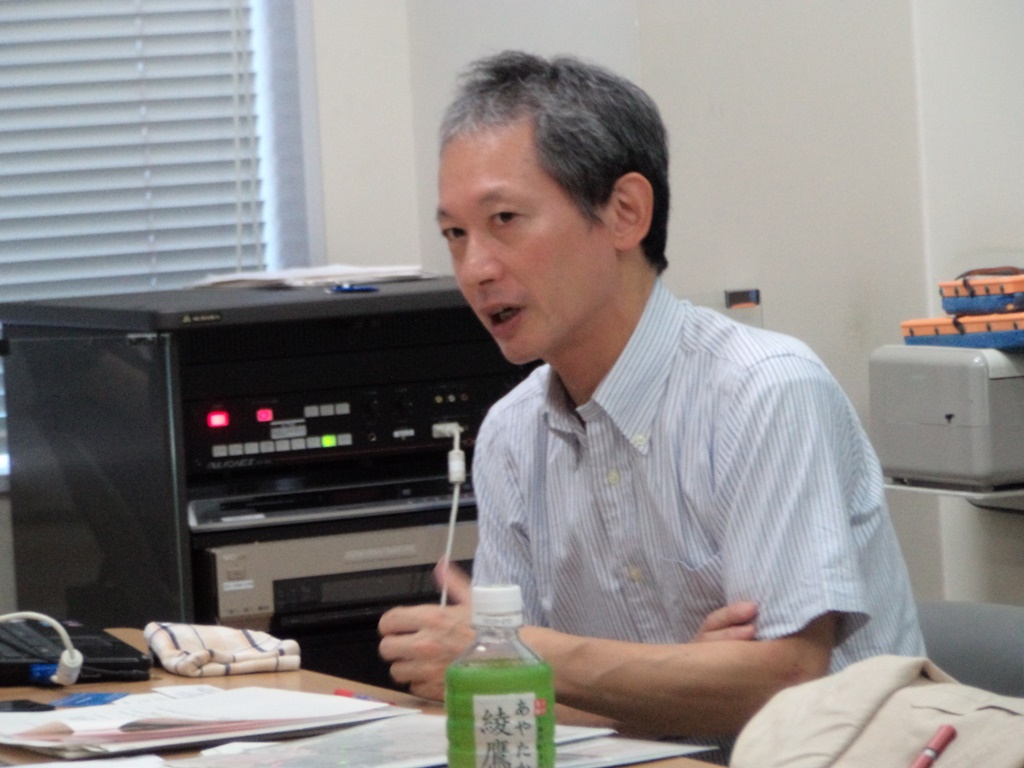 Summary notes on the presentations made by Mr. Shigeki Takizaki and Ms.Ai Kihara-Hunt.
 Mr. Shigeki Takizaki presented on the current situation and challenges surrounding conflicting territorial claims in the South China Sea.
 1. Current Situation: China, the Philippines, Malaysia and Taiwan have de facto control of various reefs and islands in the area, and those countries and Brunei lay territorial claims over them. Not only China but also other countries such as Vietnam and the Philippines also build architectural structures to demonstrate their control in order to secure fishing areas, oil, natural gas and other natural resources. Disputes around this area involve the principles under international law, in particular the Law of the Sea, and a challenge against the principle of the Rule of Law.
 2. China's Actions: China claims "the Nine Dotted Line", which is questionable under international law. Recently it was reported that China had built architectural structures on 7 shore reefs in the Spratly Islands. The Philippine has taken this case to the arbitral tribunal under the Law of the Sea but China insists that there is no territorial dispute. Currently the tribunal's jurisdiction is disputed.
 3. Japan's Policy: Japan emphasizes the resolution of disputes under the principles of the Rule of Law. The 3 principles mentioned at PM Abe's Shangri-La Dialogue-Keynote Address were: States shall make and clarify their claims based on international law; States shall not use force or coercion in trying to pursue their claims; States shall seek to settle disputes by peaceful means. Japanese government continues to contribute to resolving dispute in the area partly in order to avoid any influence on matters surrounding the East-China Sea.
 4. Actions by Other States: ASEAN countries are attempting to establish Code of Conduct (COC) based on the Doctrine of Conduct. It would be a legally-binding agreement, and contains important points: to settle disputes by peaceful means; to set a boundary to permissible acts by States; and to promote projects in cooperation with other States.
 5. Future Prospects: As it has been doing, Japan intends to provide both technical assistance and infrastructure for ASEAN Countries. Furthermore, Japan continues to share information on the current situation, encourage the firm recognition of the importance of the Rule of Law in the approach to these issues, and to discuss future prospects in international conferences.
 After Mr. Takizaki's speech, Ms. Ai Kihara-Hunt, Former Staff of UN High Commissioner for Human Rights, made a presentation on "Individual Criminal Accountability of the UN Police". It is concerns the issue of individual criminal accountability for serious crimes committed by UN Police officers during their service with a UN Peace Operation.
 She emphasized the severe scarcity of information on alleged wrongdoing and sanctions imposed upon them. She collected information from open sources, and out of 420 cases against UN Peace Operations personnel, 73 allegations were related to UN Police. A large majority of them have not been prosecuted. Her analysis revealed that there is no major legal obstacle which prevents willing States from conducting investigation and prosecuting alleged offenders. Regarding the issue of jurisdiction, international law allows both host and sending States to prosecute alleged UN Police offenders. Host States' criminal laws allow prosecution. A vast majority of sending States' criminal laws also allow prosecution of their national UN police officers, although problems remain for certain crimes in some common law countries. Moreover, since most of the criminal conduct is unrelated to the functions of the UN Police, the immunity is mostly not applicable. There are some genuine problems both for the host State and sending States, such as insufficient capacity of the host States, their political considerations, sending States' difficulty in accessing the victim and witnesses, lack of evidence in the sending States.
 In order to promote the criminal accountability of UN Police, she addressed the issue of whether international human rights law obliged States to investigate or prosecute UN Police's criminal conduct, and concluded that an obligation to protect individuals subject to their jurisdiction from crimes that would amount to a human rights violation had it been committed by a State agent might be applied in certain situations. Host States have obligation to investigate and prosecute, subject to their capacities; and sending States are arguably obliged to investigate and prosecute in particular if the alleged offender is back in the territory. It is possible to argue that the UN also has an obligation to investigate and to do its best to assist States to prosecute.
 During the Q&A session, she suggested a systematic collection of related data and improved transparency by the UN, clarification of the UN's understanding of immunity and a consistent application of immunity, while addressing its legitimate concerns about recent host States' capacities by a separate tool, stricter application of UN Police' selection criteria and better follow up with sending States by the UN, and to consider the possibility to establish a special panel attached to the ICC for investigation and prosecution of criminal conduct committed by UN Peace Operations personnel.
(Kihara-Hunt Ai, Tomoya Seki and Mana Jingushi)