Hasegawa: Japan is making a first positive step, although the number is minuscule compared with 12,000 students and trainees proposed in three years.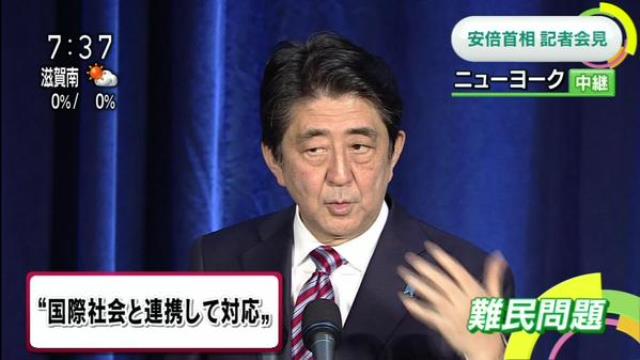 The following is a response by former Special Representative of the UN Secretary-General Sukehiro Hasegawa about Prime Minister Shinzo Abe's statement to accept 150 Syrian students for study in Japan.
Question: Prime Minister Shinzo Abe announced on 20 May that Japan will accept 150 Syrians over five years as exchange students. What is your views?
Hasegawa: The rationale for Prime Minister Shinzo Abe's decision is along the line of my recommendation, although the number of Syrian students to be accepted for study in Japan is minuscule compared with 12,000 students and trainees proposed in my opinion article contributed to Asahi Shimbun on 2 April 2016. I invite you to read my article that has been translated into English and may be accessed through the Global Peacebuilding Academy website: http://www.shasegawa.com/archives/14260.


* * * * * * * * * * * * * * * * * * * * * * * * * * * * * * * * * * * * * * * * * * * * * * * * * * * * *
Japan to take in 150 Syrians as exchange students after criticism of harsh refugee policy
May 20, 2016
by Ayako Mie
 Prime Minister Shinzo Abe on Friday said Japan will accept 150 Syrians over five years, treating them not as refugees but as exchange students.
 The initiative accompanies other efforts by Japan to help stabilize conflict-stricken Syria and its announcement comes days before Group of Seven leaders gather for a summit in Mie Prefecture.
 The plan will empower Syrian youths whose educational opportunities were lost amid the escalating warfare in their country.
 The students will be selected through international organizations such as the United Nations High Commissioner for Refugees (UNHCR).
 Every year, 30 Syrian students who are either in Syria or who have fled to other countries will be selected to attend Japanese universities in the five-year period.
 Japan will receive them students through the government-sponsored exchange program and a program of the Japan International Cooperation Agency (JICA), the nation's aid agency.
 The refugee crisis will be one of the main topics at the G-7 Ise-Shima summit. Japan apparently wants to fend off criticism that it accepts too few refugees and asylum seekers.
 It received a record 7,586 applications for refugee status in 2015, but only 27 were granted.
 Abe has also come under fire for insisting that Japan improve the living standards of its own people before receiving refugees. This contrasts with the open-doors policies of other G-7 countries such as Germany and France, which have both taken in vast numbers of Syrians.
 Abe was speaking at the United Nations General Assembly last September, where he also announced $1.5 billion in emergency aid for refugees.
 Still, the new program is intended only for students, and it is unclear if it will lead to a more aggressive effort by Japan to host refugees.
 A ministry official said the Syrians who take part are likely to leave Japan afterwards, but added this may depend on the situation in Syria.
 The Japan Association for Refugees, a nonprofit organization, welcomed Japan's efforts Thursday. But in a statement it criticized Japan's decision to accept the Syrians as exchange students and not refugees.
 The student program is part of a broader Japanese contribution announced Friday to show that the host of the G-7 summit is committed to United Nations Sustainable Development Goals. The SDGs comprise 17 targets, including poverty prevention, that are to be achieved by 2030.
As this year's summit is the first to be held since U.N. member nations adopted the SDGs last September, Abe announced contributions in three areas — aid to the Middle East, global health and female empowerment — at the inaugural meeting of the government's SDGs task force on Friday.
 Tokyo said it will allocate $6 billion in Middle East assistance, including the Syrian student program. Japan plans to train about 20,000 people who can work in public administration, job creation and education over the next three years, starting this year.
Japan will also dispatch 50 JICA experts to the refugee camps and refugee host countries for the next three years to train people and assist with regional development.
 As a proponent of global health, a subject that is also on the summit agenda, Japan has pledged $1.1 billion to bolster the global health system. This includes funds to fight HIV, tuberculosis and malaria, and to bolster the vaccination alliance spearheaded by Gavi, a nonprofit organization.
 The funds will also assist research on so-called neglected tropical diseases, which affect 1 billion people, and will provide financial support for the World Bank's Pandemic Emergency Facility, which aims to provide cash when pandemics break out.
 In the area of female empowerment, Japan pledged to provide a better learning environment for about 50,000 girls by building schools in Africa and South Asia.
 Even though the government has abandoned its goal to increase female managers to 30 percent by 2020, Tokyo has pledged to train 5,000 female government administrators in areas including disaster prevention and the police.
* * * * * * * * * * * * * * * * * * * * * * * * * * * * * * * * * * * * * * * * * * * * * * * * * * * * *