Mr. Takehito Nakata, who followed his son, Atsuhito Nakata and kept the torch of world peace, died on 23 May 2016.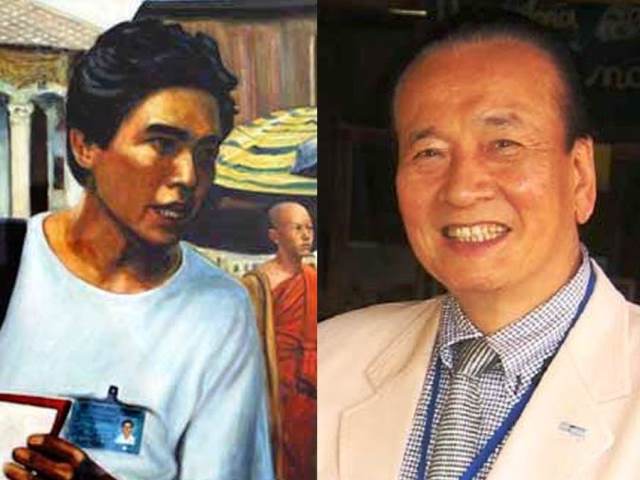 Mr. Takehito Nakata, father of Mr. Atsuhito Nakata died on 23 May 2016 at his home. He was 78 years old. His son, Atsuhito Nakata was killed on a UNV mission in Cambodia in 1993. Atsu was one of 465 UN Volunteers District Electoral Supervisors deployed in Cambodia with UNTAC in 1992. Alongside 50,000 Cambodian nationals, they were at the forefront of the first national elections organized in the country. They worked and lived with local communities, helped organize electoral processes at community level, and carried out massive campaigns to inform the Cambodian population about elections and democratic principles.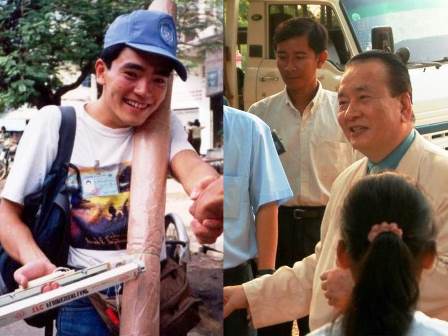 Former Deputy Executive Coordinator of the UN Volunteers Headquarters then located in Geneva, Professor Sukehiro Hasegawa stated "Both Atsu Nakata and his father Mr. Takehito Nakata contributed not only to the surge of pride among more than 400 UN volunteers serving in Cambodia but also confidence among Japanese people that they can made a difference in building peace and democracy." Reflecting sentiment of UN volunteers who served in Cambodia, Atsu Nakata's former colegue, Mr. Stephen Kinloch-Pichat, organized a 20th anniversary gathering in Rabillière, Saint-Laurent-d'Oingt in France, in August 2013.
 Professor Eiji Oyamada of Doshisha University remembered Mr. Takehito Nakata saying several years ago that he was furious and sad at heart at the time of his son`s dealth but it would have affected negatively Japan`s international contribution had he shown such an emotion. That`s the reason Mr. Takehito Nakata decided to follow the will of his son.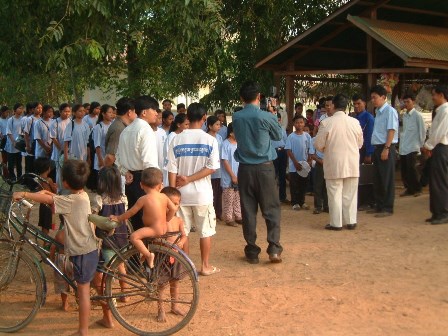 Upon learning about the death of Mr. Takehito Nakata, Mr. Stephen Kinloch-Pichat said: 'The life-long engagement of Nakata-san for world peace, is exemplary. One gets an overwhelming sense of victory when seeing a human being who succeeded, with the support of his spouse, Keiko-san, and daughter, Junko-san, and extraordinary abnegation, in building hope on the muddy sands of a small village in Cambodia, and transforming the pain and sorrow of his loss into a positive, constructive and awe-inspiring driving force, and a universal message, at the service of mankind.
 As other former volunteers who had worked with Atsuhito, I was privileged to meet with Nakata-san on several occasions: in Phnom Penh, shortly after Atsu's killing; in Geneva, a few years later, after he had accepted his then new mission as honorary Ambassador of the UN Volunteer programme; and in Kampong Thom, at the place where he would come back every year, on the occasion of the 10th anniversary of the tragic events. In 2013, he was prevented by illness to join a reunion of former volunteers, colleagues and friends on the occasion of the 20th anniversary.
 Atsu, surely also owing to his parents and family, was idealistic, determined, and energetic. Not surprisingly, so was Nakata-san, with in addition this incredible maturity and wisdom which comes with age and the experience tragically denied to Atsu on 8 April 1993. Every time, I have been deeply impressed and moved by Nakata-san's courageous and very humble way of walking in his son's steps, and carrying forward his message of peace and reconciliation.
 Each year, tirelessly, Nakata-san would bring Cambodian pupils Cheay Sampov, the location in Cambodia where Atsu was killed, and was renamed after him. He thus ensured the perpetuation of his son's spirit in a new generation born in a country finally at peace. In this quiet, peaceful, heaven-like, typical Cambodian village, the school would keep the memory of Atsu, planting the seeds of selflessness and volunteerism in the minds of young children. The Atsu Development Programme, founded by Nakata-san, would also contribute to bringing prosperity to Cambodian villagers.
 At the cost of his life, Atsu, had carried the message that democracy, the free expression of people, and human rights are values worth fighting for, whatever it takes. His father, by following his son's steps, by his engagement, also illustrated this simple truth. Neither Atsu's sacrifice, nor his father's actions, will be lost or forgotten, as others will continue carrying the flame.