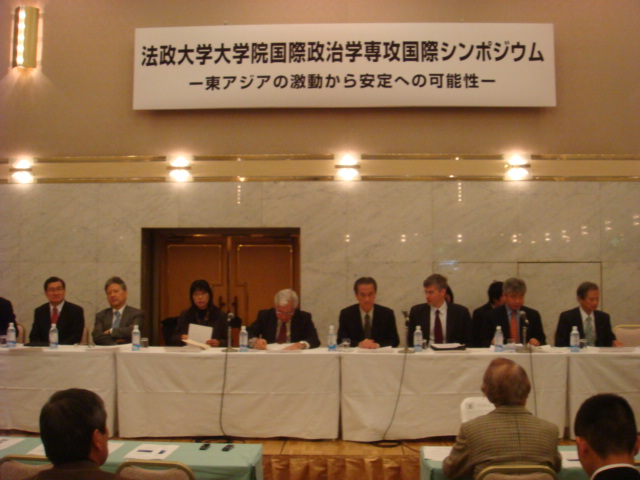 2010年12月19日、アルカディア私学会館市ヶ谷にて「東アジアの激動から安定への可能性」というテーマのもと、法政大学大学院国際政治学専攻国際シンポジウムが開催されました。杉田敦教授により開会の辞が述べられた後、第1セッションでは「アジアの安定への課題と可能性―各国の見解」について、頼海榕氏(中国)、K.O.サルキソフ氏(ロシア)、崔相龍氏(韓国)、J.M.ポマーシェイム氏(米国)と様々なバックグラウンドを持った方々の御意見を伺いました。続く第2セッションでは、「日本の立場と見解」について江田五月氏、原貴美恵氏の両氏に御講演して頂きました。コメンテーターの教授陣に加えて会場の参加者からも多くの質問や御意見が寄せられ、終始白熱した議論が展開されました。そして、最後に下斗米伸夫教授による閉会の辞をもって幕を閉じました。(光達由菜)

Following opening remarks made by Professor Atsushi Sugita, Dean of the Faculty of Law of Hosei University, in the first substantive session, Mr. Hairong Lai, Executive Director, China Center for Overseas Social and Philosophical Theories from China, Professor K.O. Sarkissov, Diplomatic Academy from Russia, Mr. Choi Sangyoung, Former Ambassador of the Republic of Korea and Mr. John Mark Pommersheim, Deputy Director for Political Affairs of US Embassy presented their views and perspectives. In the second session, Mr. Satsuki Eda, Former Speaker of the House of Councillors, the National Diet of Japan and Professor Kimie Hara of Kyoto University and University of Waterloo, Canada spoke about the position and perspectives of Japan. Japanese participants included Mr. Hideki Hayashi, Ministry of Defence, Mr. Sumihiro Kuyama, Visiting Professor of UN University and Vice President Akira Hamamura of Hosei University. Other Hosei University professors who participated in the event were in alphabetical order: Professors Gon, Goto, Hagitani, Hasegawa, Hishida, Mori, Shimotomai, Sugita and Suzuki.
It was shared by most of the participants that, in the era of ever intensifying globalisation, many of the current and prospective problems countries face cannot be resolved through traditional security measures. The traditional bilateral diplomacy alone will not suffice and more multilateral diplomacy such as six-party talks and other international frameworks as well as multidimensional (cultural, economic, political) approaches are imperative in building a relationship of trust and mutual cooperation.
It was suggested that China`s ascendency is creating a new dynamics in the working of international relations in not only the East Asian region but throughout the world. More constructive approaches need to be adopted in order to solve historical problems and territorial disputes, which may be the core hindrance in the transition from the current state of turmoil to the stability and cooperation for the mutual prosperity of the region and the world.
(Akari Kanou)