At the opening session of the Japan-China-Korea Youth Forum held on September 15, 2015 in the historic city of Gyeongju, President of UN Association of China, Ambassador Lu Shumin calls on 80 students from Japan, China and Korea to learn from the history, have courage to take on responsibilities, have the wisdom to seek common ground and keep an open mind to embrace differences.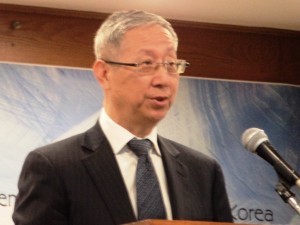 Remarks at the Opening Ceremony of the 6th ROK-China-Japan Youth Forum
By Amb. LU Shumin, President of UNA-China
September 15, 2015, Gyeongju, ROK
Dr. Sen Genshitsu, President of UNA-Japan,
Amb. Lee Ho-jin, Acting President of UNA-ROK,
Amb. Akashi Yasushi, Vice-President of UNA-Japan,
Amb. Park Soo Gil, President of WFUNA,
Distinguished guests,
Dear young friends,
 Good morning!
 It's such a great pleasure for me to attend the 6th ROK-China-Japan Youth Forum. First of all, on behalf of the United Nations Association of China (UNA-China), I would like to express my congratulations upon the convening of this Forum, and to convey my sincere gratitude to our Korean hosts, UNA-ROK for their thoughtful arrangements, and particularly, for choosing this world-famous ancient city of Gyeongju as the venue for this event. I believe all the participants will not only gain an invaluable experience from this Forum, but also benefit from an extra bonus endowed by this impressively charming city.
 I guess, for some Chinese students present here, it takes more time for them to fly from their hometown to the cities where their universities are located in China than to Gyeongju, which is in another country. The same case also happens when the Youth Forum is held in Japan. This interesting phenomenon vividly demonstrates that China, ROK and Japan are truly close neighbors, linked merely by a strip of waters. As an old Chinese saying goes, "a near neighbor is better than a far-off relative". Our three countries are all important neighbors for each other. Benefiting from geographic proximity, China, ROK and Japan have carried out vibrant exchanges through history, which leads to cultural affinity and time-honored friendship among us.
 Our close relations can be dated back to more than one thousand years ago. Gyeongju was the capital of the ancient kingdom of Silla which ruled about two-thirds of the Korean Peninsula between the 7th and 9th centuries. One of the most notable Gyeongju residents in the Silla period, Choe Chiwon (崔致远), who was a Korean Confucian Official, philosopher and poet, came to China and studied for many years in Chang'an, then capital of the Tang Dynasty, and rose to high office there before returning to Gyeongju. At the same time, Japan sent dozens of envoys to Chang'an for cultural exchanges with China. As you may know, Kyoto, formerly the imperial capital of Japan, has preserved many ancient buildings that modeled the ancient Chinese capital of Chang'an. Now, Chang'an has changed its name to Xi'an, which is my hometown. I am very glad to see that Kyoto and Gyeongju have respectively become the "sister city" of Xi'an in 1974 and 1994. It seems that the modern time of our three countries has been linked with that glorious historical period one thousand years ago by the same commitment of friendly exchanges.
 History has proven that peaceful co-existence, friendly exchanges and mutual learning are in the interest of every nation. Not only that every country can enjoy a stable international environment and focus on its own development by peaceful co-existence, but also that human civilizations can be largely advanced through friendly exchanges and mutual learning. This is a piece of valuable experience we gain from history. Nevertheless, there are also certain painful lessons taught by history, which are also worth reflecting. Only when we have a correct understanding of history, can we create bright and better future.
 Asian was the cradle of ancient civilization. Yet Asia suffered deeply in modern times. Many Asian countries fell prey to colonial or semi-colonial rule. Many of them won back their independence after WWII, only to be trapped in a Cold War. Wars and Conflicts put countries in distress, inflicted terrible losses on civilization, and brought untold misery to the people. Just as Chinese President Xi Jinping said, "war is like a mirror. Looking at it helps us better appreciate the value of peace. Today, peace and development have become the prevailing trend, but the world is far from tranquil. War is the sword of Damocles that still hangs over mankind. We must learn the lessons of history and dedicate ourselves to peace."
 Ladies and Gentlemen,
 Dear Young friends,
 Having experienced both long time of friendly exchanges and painful periods of wars and conflicts, we should bear history in mind, and open up the future. In the 21stcentury, the world's economic centre has shifted eastward. East Asia is facing a historic opportunity for development, while it is still besetting with many destabilizing factors, and facing many grave challenges including climate change, communicable diseases, violent extremism and etc.
 To grasp this precious opportunity and collectively address those common challenges, we need to foster a keen sense of "East-Asian Community of Destiny."
 Dear young friends,
 You are the invaluable members of this East-Asian Community, as well as future builders of it. I would like to share with you my views on what qualities you are expected to develop as a member of this East-Asian Community.
 First, you are encouraged to have the attitude of facing up to history. History is the best textbook. This year marks the 70th anniversary of the victory of the World Anti-Fascist War. People across the world are making commemorative activities to mark this historic occasion. Remembering history does not mean prolonging hatred. The best way to honor the heroes who gave their lives to uphold freedom, justice and peace and mourn the loss of innocent lives brutally taken during the War is to make sure that this historical tragedy will never repeat itself. Only by facing up to history, can we have a proper understanding of the present, and a strong determination to avoid the same mistakes in the future.
 Second, you are expected to have the courage to take on responsibilities. In the UN Secretary-General's message on International Youth Day, Mr. Ban Ki-moon pointed out that "emerging threats, violent extremism, shifting political conditions, economic turmoil and social transformations are combing to heighten the challenges facing the world's young people." Nevertheless, young people should not refrain from addressing these challenges. You are the creators of your own future. I believe with creative force and innovative impetus, young people will play an important role in shaping the society.
 Third, you are encouraged to have the wisdom to seek common ground. Today, globalization makes the interests of all nations interrelated and blended. There is no need to say that cooperation generates strength while isolation only leads to weakness. Win-win cooperation should be the basis policy goal of all countries in handling international affairs.
 Therefore, endeavors to expand areas of converging interests should be made with a vision of win-win outcomes.
 Last but not least, you are expected to have an open mind to embrace differences. "A singe flower does not make spring." If there were only one kind of flower in the world, people will find it boring no matter how beautiful it is. Therefore, differences should be tolerated and diversity should be respected.
 Dear young friends,
 The Youth Forum, initiated by our three United Nations Associations, is intended to provide you with a platform to acquire and test the qualities I mentioned above.
 I hope you will gain mutual understanding by listening carefully to each other, develop a global vision and sense of responsibility through discussion over hotspot global issues, advance meaningful solutions by seeking common ground, and broaden your mind by embracing different opinions. I am sure you will harvest bountifully from this Forum.
 In the end, I wish the 6th ROK-China-Japan Youth Forum a complete success!
 Thank you!