Secretary-General Masakazu Nagamine called on Japanese, Chinese and Korean students to identify the causes of five major wars of last 100 years and discuss how any armed conflict and war can be avoided in East Asia.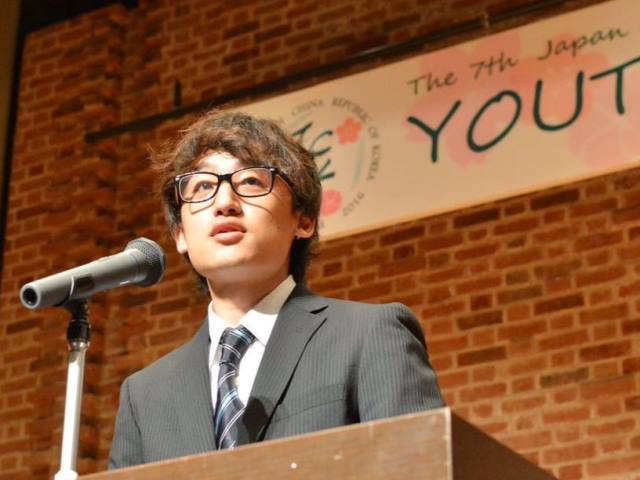 Mr. Masakazu Nagamine's opening speech
 Good morning ladies and gentleman. My name is Masakazu Nagamine. I am a sophomore at Soka University in Tokyo, and the Secretary General for this 7th annual JCK Youth Forum. First of all, I would like to welcome our honorable guests and all the distinguished delegates from the three nations. We are pleased to have you here in this beautiful city of Fukuoka for the 7th JCK Youth Forum hosted by UN Association of Japan.
 Every year, youth leaders from three nations gather to meet, exchange views and promote mutual understanding and respect. I participated in the Youth Forum in Korea last year when I was a freshman. What I experienced there was unforgettable and life-changing for me. As one of the youngest participants, it was very difficult for me to engage in active discussions of the complicated issues that East Asian nations face. Then, I realized that there was nothing to worry about because we were all together as we were really interested in overcoming misunderstanding of each other and enhancing peace in East Asian nations. We did engage in discussions of controversial issues, but the discussions were informative and productive as they revealed different perspectives held in three countries. We spoke about them honestly and sincerely with the desire to really understand each other`s perspectives and points of views. It demonstrated the possibility of what the youths of East Asia could do together, and I was convinced that the continuation of this forum is the key to understanding and enhancing peace in East Asia.
 This year, we are going to find jointly together the causes of five major wars: World War II, the Korean War, the Gulf War of 1991, Afghanistan War and Syrian Civil War. Together, we will search what we can do to prevent any armed conflict and war to happen in East Asia. You may face difficulties trying to achieve understanding and compromise during the discussions. However, please do not forget that we are trying to find how to safeguard peace with open mind and honest communication. We are here not only to discuss how to keep peace in East Asia but also raise our voices together in adopting a Fukuoka Declaration which build the foundation for peace and prosperity in East Asia.
 Lastly, I would like to thank all the supporters, student committees, and the UN Associations of the three countries for their hard work and effort in organizing this conference.
 Participants, please prepare to be challenged, excited and inspired. To conclude my speech, as the Secretary General of this forum, I'm happy to announce the opening declaration of the 7th JCK Youth Forum.
 Thank you.