Ambassador and Acting President of UNA-Korea calls on participating students to make full use of imaginative thinking and stimulating force as the prerogatives of youngsters.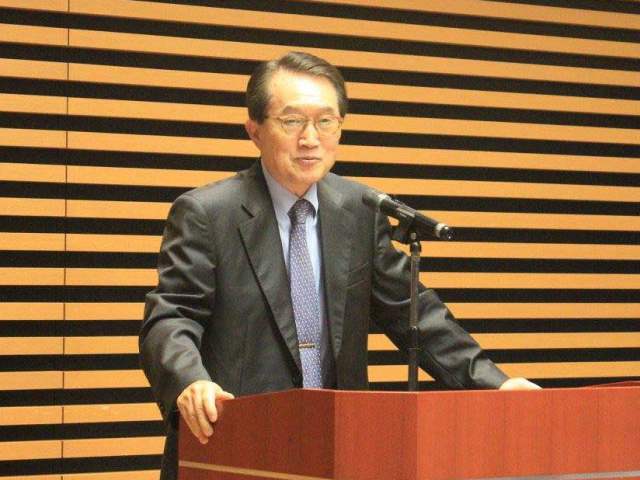 Japan-China-ROKJCK Youth Forum 26-30 August 2016Fukuoka City, Japan
Opening Remarks
Ambassador Lee Ho-Jin, Acting President of the UNA-ROK
For the 7th Youth Forum of UNAs-Japan, China and ROKFukuoka, Japan, 26 August 2016
 Dear students, distinguished delegates of UN Associations of China, Japan and the Republic of Korea and WFUNA, ladies and gentlemen,
Good evening to you all.
It is truly a great pleasure for me to be with you at the 7th Trilateral Youth Forum taking place back to back with the Trilateral Presidents Meeting of UNAs-China, Japan and the ROK, this time in Fukuoka. On my part as well, I wish to extend my warm welcome and congratulations to all the students participating in this valuable event.
Let me begin by talking little bit about the Olympics, as we have enjoyed the 2016 Summer Olympic Games in Rio de Janeiro, Brazil that concluded just a few days ago. I presume most of you throughout the Games have indulged in your national team, sharing all the joys and sorrows of life perhaps inherent in the game of sports. And yet I would expect that on the other hand, you might have subdued your emotion to realize that at the end of the day the Olympics is not so much about winning or losing as about the worldwide forum for all countries around the globe to enhance understanding, build friendship through fair competition and thus promote peace among people and countries.
As stated in the Olympic Charter, the mission of the Olympic Games is to serve through sports the harmonious development of humankind, with a view to building a peaceful and better world in the Olympic Spirit. The intensity of competition and fierce rivalry among the athletes are appreciated all the more so because they are first and foremost based on rule, impartiality and the sense of fair play.
Seen in this light, the agreement signed between the UN and the IOC, which aimed at strengthening collaboration between the two organizations, was right to underline that they "share the same values of contributing to a better and peaceful world." Indeed, sport was officially recognized in 2015 as an "important enabler" of sustainable development included in the UN's 2030 Agenda for Sustainable Development.
At a time when we are facing grave challenges to the cooperative relations, peace and security particularly these days in our region, the Olympics has provided us with yet another opportunity to confirm the importance of rule-based competition in good faith that can always open onto trust-based cooperation and common prosperity.
When it comes to the three countries — China, Japan and the Republic of Korea, their achievements in the Rio Olympics are incredibly outstanding, all ranked within the top ten of performance in the world. The three countries did host already in the past and will again do the Olympic Games in a near future. You should ponder upon what it means to the region as well as to the world. Being recognized as leading countries equipped with the capacity and renown, they are obliged to behave in a more responsible manner, which I believe eventually contribute to common peace and co-prosperity not just in this region but all around the globe.
Certainly, times are hard nowadays. This region comprising our countries is fraught with both internal and external threats. Irresponsible behaviors and myopic ambitions disregarding mutual interest would hinder efforts to forge forward-looking relationships, keeping us further away from building an 'East-Asian Community.'
From this viewpoint, so-called Asian paradox, coined a few years back to indicate intensifying strife in the realm of politics and security in parallel with deepening interdependence in economic terms among Asian nations is perhaps comprehensible. The Paradox is still palpable. The realities and the gloomy outlook it seems to present could certainly draw pessimism toward the possibility of win-win cooperation.
However, having optimism for you, our future leaders to get out of the current stalemate, I strongly urge you to never be imprisoned by the things that brought about today's imbroglios; be it cynicism, stubbornness, mistrust, or refusal to understand one another. Don't stop to seek the balance between realism and idealism.
Sixty years ago, former UN Secretary-General Dag Hammarskjold said that 'realists are tempted by the illusion of cynicism; idealists are tempted by the illusion of Utopia.' While keeping your feet firmly on the ground to face up to the reality around us, do not limit yourselves by giving up beliefs in principles and morals. As Mr. Hammarskjold said, universally shared ideals cannot fail us, only we often fail them.
I encourage you to step outside preconceived establishments. Make full use of your imaginative thinking and stimulating force which is one of the prerogatives of youngsters. In order to go forward with the pressing agenda for building trust, peace and prosperity in East Asia, and around the globe to go even further, active engagement of citizens, especially by young people, is imperative.
During the Symposium, as I understand, you will have the opportunity to ponder and discuss on the new world order. In one of his recent books 'World Order', Dr. Henry Kissinger, who was often accused of stressing realism above all other considerations for a long time, confronted such criticism and espoused the necessity of ideals in the realm of cold politics by saying: "idealists do not have a monopoly on moral values; realists must recognize that ideals are also part of reality."
This Youth Forum initiated by the three UN Associations 7 years ago was also started from a sort of idealistic thinking. The plan that gave form to this Forum was to tap into the incredible creativity and potential of young leaders like you. I am proud that we have navigated with hundreds of brilliant, open-minded young people from the three great countries – empowering them with global vision, spirit of tolerance and cooperation, and a sense of responsibility.
Finally, for a memorable and meaningful takeaway from this forum, I would remind that your time and experience with your fellow students sitting next to you will prove to be an invaluable asset. In this vein, I implore you to open your minds, let yourselves to truly understand each other, and hopefully build sincere friendship and trust. And to this end, let's take this rare and wonderful opportunity to see, learn, put your heads together; and above all, have fun!
Thank you.