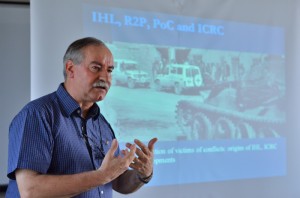 Mr. Vincent Nicod,  the Head of the Mission,
  the International Committee of the Red Cross in Tokyo
 Mr. Vincent Nicod, the Head of the Mission of the International Committee of the Red Cross in Tokyo, delivered on June 8 a lecture on the relevance of "Responsibility to Protect" and "Protection of Civilians" in field operation and explained the implications of the concepts for ICRC in their application in practice. The ICRC is the only institution explicitly named under international humanitarian law as an authority responsible for protecting civilians in conflict. The legal mandate of the ICRC stems from the four Geneva Conventions of 1949, as well as its own Statues. ICRC is an impartial, neutral and independent organization with its humanitarian mission to protect the lives and dignity of victims of war and internal violence and to provide them with assistance to sustain their life.
 In his presentation, Nicod introduced how the notion of the law that regulates the conduct of armed conflicts had developed by mentioning two historical laws: the Law of Hague and the Law of Geneva. Nicod further touched upon the 1977 Additional Protocols to the Geneva Conventions. These additional protocols extended and strengthened the mandate for civilian protection in international and non-international armed conflict, for example by introducing the prohibition of direct attacks against civilians. A "civilian" is defined as "any person not belonging to the armed forces," including non-nationals and refugees.
 Four principles were said to be essential for protecting civilians. First, the principle of distinction, which protects civilian persons and civilian objects from military personnel and operations. Second, the principle of proportionality, which requires attacks on military objects must not cause loss of civilian life considered excessive in relation to the direct military advantage anticipated. Within this second principle, every feasible precaution must be taken by commanders to avoid civilian causalities. Third, the principle of humane treatment, which requires that civilians are treated humanely at all time. Fourth, the principle of non-discrimination, which requires that all protected persons should be treated with the same consideration by parties to the conflict, without distinction.
 During the discussion that followed Nicod's presentation, it was noted that the distinction and the proportionality contained several aspects to be considered including "collateral damage".
(Asami Ikeda)